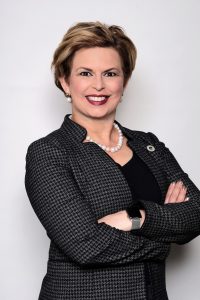 Julie Stokes
President & CEO
Julie Stokes is CEO of Flame Consulting, CFO of Stokes & Associates, President and CEO of Ellevate Louisiana and Co-Founder of the Cancer Advocacy Group of Louisiana.  She is a CPA, a nonpartisan policy advocate, a civic leader, and a speaker.
Over her seven years of service in the Louisiana Legislature, Julie Stokes gained a reputation as passionate advocate for comprehensive, non-partisan fiscal policy.  Julie was able to share her knowledge as a CPA, as well as gain significant legislative experience, with the Louisiana budget, comparative state tax policy, oversight of legislative audit, Louisiana's economic development incentives, and Louisiana's Department of Health policies.  Having received numerous accolades for her work in the Legislature and leaving public life behind in 2020, she opened Flame Consulting to continue supporting projects that she is passionate about, like nonpartisan public policy, cancer advocacy and helping other worthy causes with strategic planning and management consulting.
As part of her work through Flame Consulting, Julie founded Ellevate Louisiana.  Ellevate Louisiana's purpose is to empower women leaders throughout Louisiana by connecting and educating them on the challenges impacting Louisiana with data-driven, non-partisan solutions to make a better future for the state.  In its first two years of operation, Ellevate Louisiana has grown to 170 members statewide.  Ellevate Louisiana hosts discussions with policy makers in key areas of state policy-making in order to study the issues and create a policy agenda for its advocacy work before the Louisiana Legislature.
Julie currently serves on the University of Louisiana System Board of Supervisors and was the 2017 Distinguished Alumnus of the University of New Orleans.  She is currently the Policy Chairman for GNO, Inc. and a graduate of the Committee for a Better Louisiana's 2020 Leadership Louisiana class. She is an actively member of the Louisiana Committee of 100 for Economic Development, the New Orleans Chamber of Commerce, the Jefferson Chamber of Commerce, the Louisiana Society of CPA's, the International Women's Forum, Women United, and other groups.  She is a frequent speaker to groups on the subject of fiscal policy as well as on inspirational topics such as finding your voice, making a difference in this world and fighting back against all kinds of adversity and overcoming it.
During her time in the Louisiana Legislature, she chaired the Legislative Audit Advisory Council and the Sales Tax Streamlining and Modernization Committee.  She was a very active member of the Ways & Means and House Health & Welfare Committees.  She also served on House Labor, Capital Outlay, and was an interim member of House Appropriations Committee.  She travelled Louisiana with the Committee of 100, the Public Affairs Research Council, and the Committee for Better Louisiana as one of the lead speakers on Fiscal Policy and Tax Reform in 2015 and 2016.  Nationally, she was very involved with the National Council of State Legislatures, having served on the Executive Committee, as Co-Chair of their Budget and Revenue Standing Committee, and being co-chairmanship of its Executive Task Force on State and Local Taxes.
She attended the University of New Orleans on full scholarship where she received her Bachelor of Science in Accounting, Magna Cum Laude.  Julie resides in Kenner with her husband Larry and their two children, Brandon and Taylor.